G1™ SMALL
As part of our Pack we're hoping you'll share #MyGunnerStory with the rest of the world. And major props for pictures of your dog – they'll be posted with the review, and maybe on social media too.
Customer Reviews
11/13/2019
Lori S.
United States
I feel a lot more
I feel a lot more confident knowing my two Chihuahuas are in a safe crate when we travel. They love it also. The crate feels and looks very well made. I'm glad I purchased this crate.
11/05/2019
Jerry R.
United States
Excellence
Gunner kennels are simply the best I've ever used. This purchase was the third for our family and I know we've got our hunting dogs and family pet covered for safe travel and home kenneling needs!
10/04/2019
Margaret W.
United States
Kennel is working well and we feel our dog is safe.
We have a 13 pound Jack Russel mix rescue dog. We researched travel kennels for him after purchasing a different type that basically was a containment system and really didn't provide any safety beyond that and he didn't like being in it at all. After researching and watching the crash test video on your kennel, we decided to try it. We've had it a few months now and really like it. We feel our dog is very safe in it and he rides calmly and comfortably in it. We recently brought my mother's elderly chihuahuas to live with us and just purchased another G1 small to transport them in (they are tiny and a bonded pair) so they are safe when we need to take them somewhere. We just got the second one and are going to give them a trial run in it soon. We also just purchased two of the orthopedic pads for the kennels. So, so far we are loving the products and feel our pets are much safer in the car now.
09/26/2019
Brenda K.
United States
I have never been so excited about a purchase for my dog!
My mixed breed rescue dog, Kevin, is the love of my life. A year ago we were coming back from a road trip and were nearly in an accident. It motivated me to research the safest kennels. I saved up and just got my first Gunner. Kevin usually doesn't care for being in a kennel but he loves his Gunner! I feel better knowing he is safe!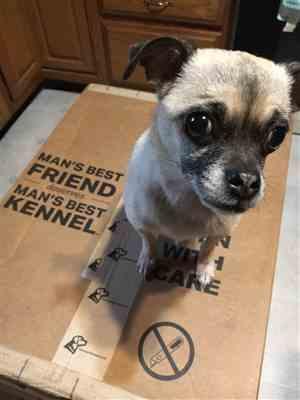 09/11/2019
Savanna G.
United States
G1 Small, Worth Every Penny
I strongly believe that this kennel was worth every penny and the 14 hour round trip (Edmonton to Montana) to know that my dog is safe. I've always had a fear of getting into an accident with my dogs in the vehicle; it's not necessarily the accident itself that is scary but the aftermath. Even though both my dogs are fairly confident I would not put it past them to run if there was a serious accident and they had somehow become loose. It gives me peace of mind to know that if I was to be in an accident that their kennel door is going to remain closed and locked until it is safe to open. The customer service from Gunner Kennels was above and beyond what I expected as well. I had so many questions and being a student in Canada the discount would not apply, they entered it manually for me and refunded the discount the same day. I can't wait to order my other dogs his kennel.