G1™ LARGE
As part of our Pack we're hoping you'll share #MyGunnerStory with the rest of the world. And major props for pictures of your dog – they'll be posted with the review, and maybe on social media too.
Customer Reviews
12/04/2019
Mark R.
United States
G1 large w accessories
Great kennel and accessories- not time consuming putting together but worth it!
12/01/2019
Joshua M.
United States
11/30/2019
john t.
United States
THE BEST
JUST AS I EXPECTED. SOLID AND FIRST CLASS
11/27/2019
Krista W.
United States
G1 large w/ Chew Kit (Door + Window)
I recently adopted a 70 lb Doberman pinscher with severe separation anxiety. She escaped a wire crate and damaged her gums and front teeth attempting to chew out of a standard plastic/wire door crate. The G1 large has a heavy weight to it - she is unable to rock or move the kennel while inside. She does not appear to be able to chew at the window grates or door. She is noticeably calmer in the G1. CAUTION - She cut a paw on a sharp screw head holding the door chew panel in place. We removed only the door chew panel after the first use and have not experienced injury since. We have not had an issue with the window chew panels. Overall, very satisfied. A Gunner Kennel may be the only type of kennel I ever purchase. If you have a dog experiencing separation anxiety, crate training your dog with a sturdy kennel like the G1 may quite literally be a life safer and give both you and your dog more peace of mind. It has for us.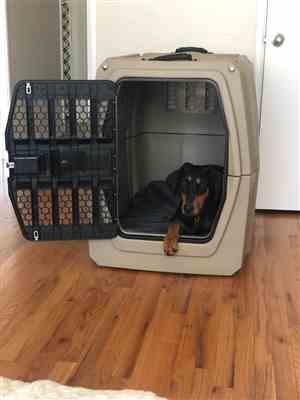 11/27/2019
Patrick M.
United States
Great Kennel
Best Kennel on the market.