G1™ INTERMEDIATE
As part of our Pack we're hoping you'll share #MyGunnerStory with the rest of the world. And major props for pictures of your dog – they'll be posted with the review, and maybe on social media too.
Customer Reviews
Write a Review
Ask a Question
BS
09/22/2020
Ben S.
United States
Incredible Kennel
I was fortunate enough to get the limited addition color and love the look, fit, and stability in the bed of truck. My 6 month old lab, Nelli, absolutely loves her kennel and takes to it with ease. I have been able to travel many hours with her in the kennel, at first started with it in the cab of my truck for a solid 3 hour one way trip and I am a firm believer she felt more secure when I realized her whining and barking that happened in her last, poorly made kennel, seriously and completely disappeared in her Gunner. I am still in college with my dog for the next few years living fair distance away from home so there is no doubt this kennel will be put to use whether it is traveling back home, out to a blind on the weekend, or simply around town I will be using this kennel pretty much daily. Finally, I have never written a review before on anything but this kennel sure deserves it. Not only do I love this kennel and everything about it; I trust this kennel and I am confident Nelli is safe in sound in her Gunner every time I close the door. I am very impressed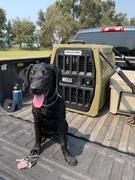 08/27/2020
Brad T.
United States
Your dogs life if worth every penny!!!!
After investing countless dollars in cheaper crates that all my buddys told me where "just as good" I finally invested in the last crate I will ever own. All you have to do is put your hands on one and you'll know... this is the real deal. I can't believe how well these are built. I hope to never test the safety of this crate but I can't sleep well knowing that my dog will be safe if I ever have to. Don't be a cheap ***, buy a Gunner ! Thanks, Bthorpe_outdoors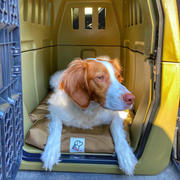 08/17/2020
Phillip N.
United States
Perfect for my anxious traveler
My girlfriend and I could not be happier with out gunner kennel purchase. Our dog Penny loves the outdoors but gets very anxious in the truck, crying and barking and trying to crawl into our laps. The kennel has provided a safer and better experience for everyone, giving her a spot to rest and relax while we drive. Quality wise this thing is top notch and clearly built to last.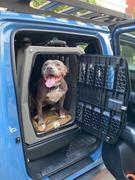 08/14/2020
Nick C.
United States
USA quality
Everything about this kennel says it'll last a lifetime.
08/13/2020
Tyler P.
United States